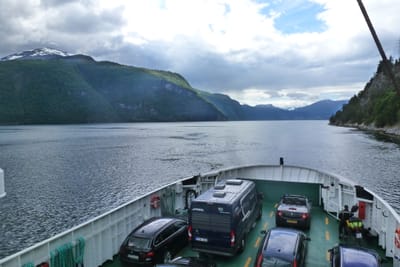 Another increasingly important factor is the emerging interest in climate change and sustainable travel. It is a pleasant thought maybe for those who like their summer sunshine but heatwaves in Europe are becoming increasingly common.
In late June 2019, Europe faced its most severe heatwave in sixteen years, with record temperatures across the continent. France recorded its hottest day ever, while Germany and Switzerland also recorded record-breaking temperatures for the month of June.
The last time the continent faced such extreme temperatures was in 2003, when a heatwave killed more than 20,000 people. But, as the effects of climate change start to take hold, such extreme weather events are starting to become the norm. The 20 warmest years on record have all occurred in the past 22 years. It will mean the annual exodus to the sun for holidaymakers will increase the demand for travel to cooler places, places that are already on our doorstep.
Visitors to Scandinavia are increasing year on year and so too is the interest in sustainable travel which is where the interest in shipping and its push toward cleaner fuels could benefit with the need for increased travel options to those destinations. It may provide a golden opportunity for a forward thinking operator to be the first to establish, or bring back, routes which are missed by so many people and welcomed by new travellers in an increasing market.
More and more of the population, especially in the Scandinavian countries, are looking for carbon free alternatives to flying and there is now a marked reduction in domestic flights in Sweden, particularly with Flygskam (shame of flying) having made an impact.
The market for alternatives to air travel are on the rise. There has been a 10% increase in train journeys in domestic travel and ever more interest in establishing and re-introducing long distance travel by train. In 2016 the German State Railways decided to close all night train routes because of low demand. Since then the Austrian Railways have started several lines and now the Germans are considering restarting their night trains. While the shipping industry is not yet ready with Eco-friendly fuels on the longer distance routes there is much being done in seeking alternatives to fossil fuels.
There are noticeable changes in the market since the last ferry route between Scandinavia and the UK ended and not only would a reinstated route using bio fuels appear to be financially viable but it would also give the first operator to take up this opportunity a decisive lead in sustainable shipping.
So, perhaps the opportunities that emerge after Brexit will help bring about a change of thinking. Increased congestion at the channel ports, new freight contracts and the possibility of moving freight traffic to the east coast ports, with the return of duty free sales and recent talk of DFDS adding passenger facilities. Add this to the environmental issues and it may be a combination of all those things that will see a return of the link between our countries.
Join us on our active Facebook site:
https://www.facebook.com/groups/RHEGFerry/
and
Please sign the Petition:
https://www.change.org/p/reopen-a-direct-ferry-from-the-uk-to-denmark