Ingrid Truelsen Beck
17 June 2019 at 15:18
Like everybody else i miss the old ferry terribly. I live in Northern Ireland so the trip to Dk is both expensive and time consuming, but I've found the best route to be from Newcastle to Amsterdam with DFDS, where we sleep on the boat at night time. Get to Amsterdam in the morning and then drive through Holland and northern parts of Germany up to DK. My husband is older than me, so we stay in Germany one night, but if I was on my own I think I'd drive straight up. Hope this may be helpful.
June Ramsey This is fine if you don't mind driving a long distance and it helps if there are two people to share the driving. I've done this route too with my husband up to Northern Germany where I live but now, I'm alone and not young. It's too far and with all the hold ups in Germany, too long. I go to southern England so Newcastle is too far north. We did the Hull Rotterdam one too but again, too far north. So, then there's the train, down to Amsterdam or Rotterdam is not too bad but it's a nightmare by train to the Hook of Holland for the ferry to Harwich. Ideal for me would be Hamburg Harwich but I'd be very happy with Esbjerg Harwich.
Mark Swingler We got public transport from the Hook to Amsterdam early this year without too much trouble. Hook to Rotterdam was by bus because of major works on the railway, probably complete by now. The NS app tells you how to do it.
June Ramsey The trains down to Amsterdam and Rotterdam from Northern Germany are easier but the ferries don't go to Harwich though.
Andrea Pedersen When they did the Cuxhafen to Harwich the trip took less time and cut out Hamburg.
Andy Karamallakis Miss it terribly too. We are driving down to Calais this Summer to cross over, its going be a long and exhausting day.
Petronella Clark We miss that ferry sadly too! Now we often take the Harwich-Hook ferry, preferably overnight, but if we go by day from Harwich we stay a night in a nice site near the dunes in H of H and then often do the drive to DK (to near Aarhus) in a day. Our return journey is often more leisurely, e.g. sightseeing in Germany and France, sometimes taking the Brittany Ferry from Cherbourg to Poole (we live in Somerset).
June Ramsey I notice everyone is writing 'we'. If you are a couple you can make something of the journey down to the ferries, leisurely drive, stay in a nice hotel/ site, a bit of sightseeing etc. But not much fun on your own when all you want to do is get to the UK to see the family and do some shopping.
Andy Karamallakis
Just back from Uk. Started in Esbjerg. Taking the Calais ferry. 14 hours there and 18 and a half back. Absolutely brutal. We have said it's the last time.
Kjersti Wik Farrier
I am now halfway through my holiday, travelling from Newcastle to Norway by car and around Norway. I drove to Harwich to catch the overnight ferry to Hook of Holland, put the dog in the kennel and went straight to bed - what a pleasant wake-up in the Netherlands! Early, but it was lovely to have crossed over to another country "just like that"! We then took the advice of someone on here and caught the Wischafen to Gluckstadt ferry, avoiding any traffic altogether apart from a one hour crawl down to the ferry. We then ploughed through the rest of Germany and into Denmark and all the way to Vejle - arrived around midnight at our Danhostel. The following morning we left at 8:45 and arrived in Hirtshals at 11:45, where we embarked on the 12:45 ferry to Larvik in Norway, had lunch onboard and arrived in Norway at 16:30.
Admin: So that Stena Line ferry could have taken any one of us direct to Esbjerg with an easy hop to Hirtshals the same day instead. 😊
Joann Hanmer Another trucker recently posted this picture of his drive from Scotland to the West coast of Norway. It really put things into perspective when we are talking fuel emissions and the government is taking any oportunity they can to get more money out of diesel car owners, yet they cannot see sense and get a ferry route to Scandinavia going! It's almost so ridiculous it's funny!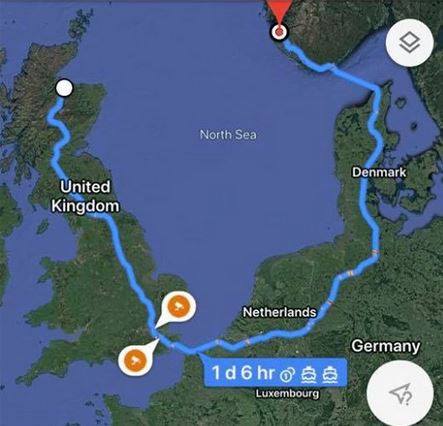 Kate Fletcher's journey
Patrick Butler's Journey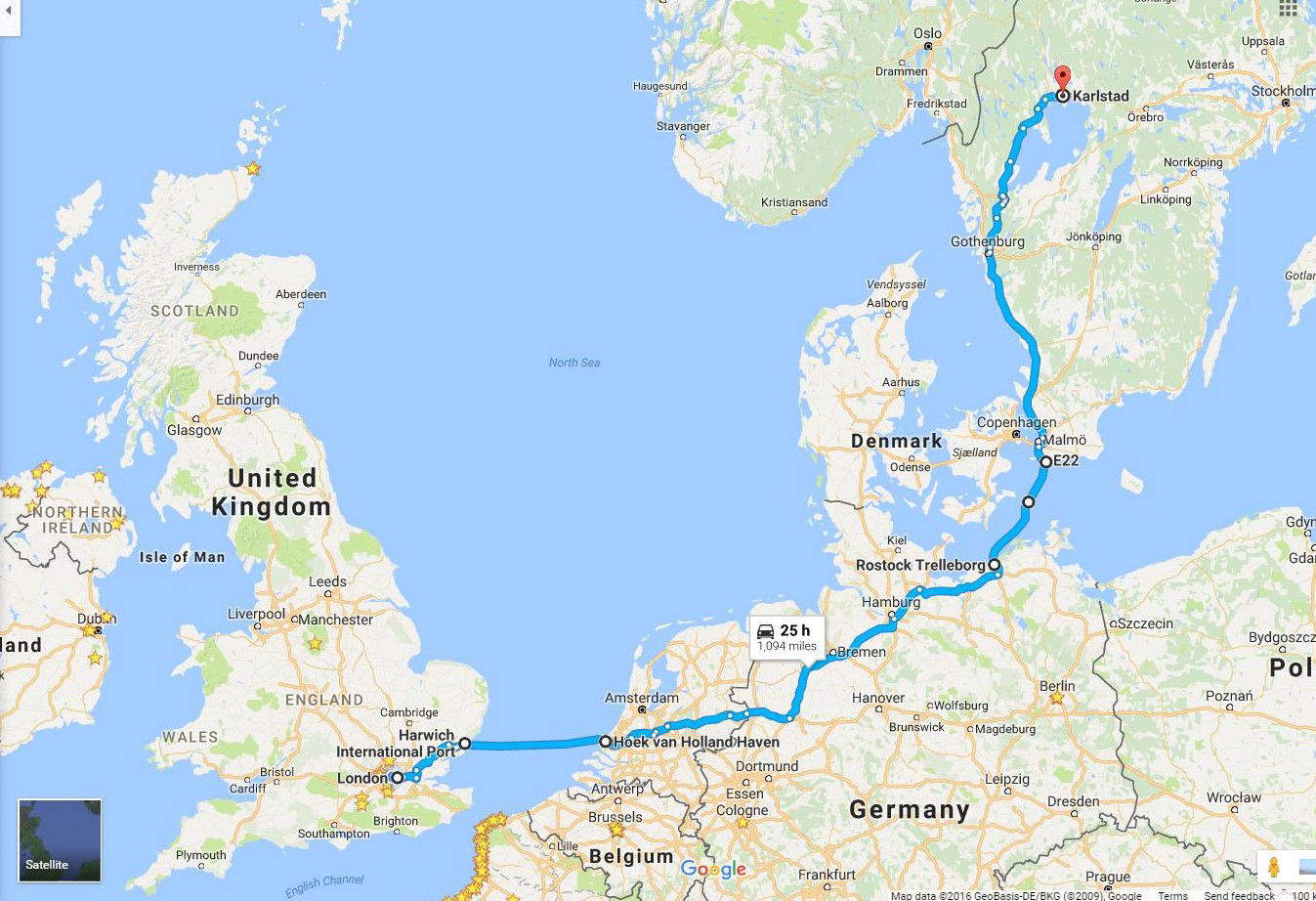 James Drennan
My usual journey since Smyril Line dropped the Scrabster/Aberdeen link and later still Lerwick, DFDS was the final blow. This the route google maps will suggest but maybe best avoided.

My actual route in May using the Afsluitsdijk and the Wischhafen ferry.